First of all, I want to apologize that I have been lacking in blog writing - but it doesn't stop me from reading yours. There are so many giveaway and contests! I loved the contestants for Sarah's disney theme. I wanted to vote but I had a hard time just choosing one. :) I envy all the hands that created such beautiful art.
[I would love to be able to sleep in this position]
So I been having my lazy days, emphasize on the lazy. I been trying to go jogging with Mz. Chrissy but for the past week, we experienced some technical difficulty: the area was filled with scoops (Golly, they all have wondering eyes), it started to rain or the sun was going down early (bad for baby Ceejay) or simply, I just wanted to spend more time with the boyfriend. I am starting to enjoy the summer because we're reconnecting again - the semester was really harsh for the both of us. & Shout out to that boy ;) He has been taking good care of me lately - I haven't gotten paid yet and I am extremely broke. But he still gives me money & feeds my mouth. (Mind you, I'm very grateful)
NEWBIE IN TRAVELING
Even though I was able to escort 10+ people around Boracay and Manila, I am darn sure that experience would be nothing compared to my trip to Japan. Like I inform other bloggers, I'll be leaving to Japan around the end of July. My boss was scaring me about how it's going to be hard to read the signs & how to get transportation from point A to B. What am I supposed to do? I really only know simple basic Japanese words such as hai. (No really, I'm not trying to make you laugh) And I really don't want to cancel my trip until I am more experienced, because I always wanted to go Japan since forever. (As much as I love the mother land, I want to experience new countries) I'm planning to go Singapore next year, and would really love to learn from this. =(
SOMEONE really needs to HELP me!
Should I just get a tour agent? What do you think?
~ Please share your traveling stories (outside of your country). I would LOVE, LOVE, LOVE to hear from you :)


Beauuuuuuuuty :)


Oh my! This is the MAIN reason why I want to go to Japan badly! I even swear to pack super light so I can have enough space in my luggage to take home with me. I'm going to have hello kitty orgasm! I can't waiiiiiiit!
CONTEST UPDATES*

I am very shocked that since my other entry, I now have 7 entries to my contest! & They are all very well. Every one of them have great contents to read about the Philippines & being a Filipina. And majority of them choose to do looks. So how am I suppose to pick a winner? Eeeeek.
I wanted to post the final prizes around this time, but I haven't gotten paid yet so it's not complete. I hate the whole UPSP price to ship to the Philippines - I have to have a certain limit of pounds. How much goodies can I possibly store in that little box? Yikes! I will have to be extra careful because the next size is more than $40.00. That's ridiculous! They should have a discount since Guam is just 3-4 hours away. I might as well send a balikbayan if it's going to be that expensive. (Sigh) But if it does go over that, I'll just pay for the fee & send it around July so I can add some things from Japan. That is if the winner is willing to wait. We'll just have to wait and see.
MOVIES: EAT IT OR POOP IT :)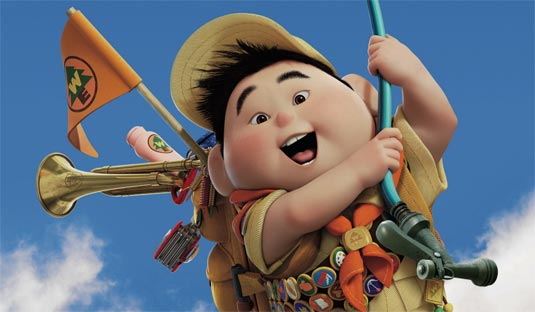 He is so adorable. I want to eat him up, Munch, Munch, Munch.
WATCH THIS* A cute, hilarious movie with a moral. Loveeee it.
"Drag me to hell"
PROS: To be honest, I'm not one to look at movies and declare "Wow, that movie should had won an oscar" or "what a stupid plot!", as a matter of fact, I don't even know how to spot a plot! To my opinion, if a movie did its job to make you cry, laugh, smile, or scared - it did its job. And with this movie, it was quite scary. The images and the thought of the devil trying to take you soul scared the hell out of me, BUT it made me laugh. Har, Har, Har. It was hilarious! (I don't think it was intended though)
Also, it's a great time to cuddle with the boyfriend! But I went with my best friend, which is just as great!
CONS: If you are one of those strict movie buffs, steer away from this. Wait for it to arrive on DVD.
The movie was so gross - especially the old lady! One of the ladies here on blogger should offer to give her a full on make over! Yeeeeeeck!
** This concludes my blog, incase my boss comes back and eat my head out! He's hella ranting around because we can't find the damn security guard! Oh well.