Happy Wednesday!

I promised myself that I wouldn't go shopping since I'm running low - but I couldn't help it when I was watching by Macys & saw that Lancome was giving away goodies with a $29.50 purchase. (Whoever thought of this idea is a genius, it sure does attract the customers) & I decided to get a new foundation anyways. I didn't like my Clinique because it was too light for me - I got more darker when I worked at the animal shelter. Yesterday, when I was wearing it, I noticed it was really ugly when I took pictures with flash. I hope I didn't scare

Maggie

when I met her for the first time at Kmart last night. Her husband was going to take the picture when I said

"WAIT! NO FLASH!"

Sorrrry! And

PS:

She's so much prettier in person! Not to forget to mention, sweet and sexaaaay ;)




It came with a free bag (red/blue), make up remover, mascara, anti-aging cream (blaaaah!), lipstick of my choice and a eye shadow palette - which I forgot to open to show. Opps!



BIZARRE COLLECTION*





So Katie
of girlabouttown88 is hosting a contest! It's fun. You should do it too!
**here are the rules if you ladies are interested! (copied from her giveaway post)
1. YOU HAVE TO BE A FOLLOWER. I DONT WANT ANYONE WHO IS PASSING AND JUST WANTED A HANDOUT! I LOVE MY READERS SO BE FAIR AND BE A FOLLOWER! i don't care if you're a new follower...just click follow...LOL
2. this giveaway ends....on May 30th at 11:59 Eastern! i have a few things to send out so i wanna do that the first day of school...on june 2nd LOL
3. As you can tell from my posts, i LOVEEE TAKING PICTURES! sooo....more pictures means more chances of winning! HAVE FUN WITH IT!
4. What exactly am i looking for? Anything! gimme your bizarre, your obsession, your loves!!! Whatever your collection is, also remember to show me some makeup in it! this is a "makeup blog" haha or it is supposed to be...LOL
5. You must comment on this post WITH YOUR ANSWERS FROM THE THREE QUESTIONS ABOVE! ONLY EMAIL ME YOUR PICTURES OF YOUR COLLECTIONS AND YOUR BLOGSITE! DO NOT EMAIL ME THE ANSWERS! IF I DO NOT SEE THE ANSWERS ON THIS POST, YOU WILL BE DISQUALIFIED AND YOUR COMMENT MIGHT BE DELETED!!!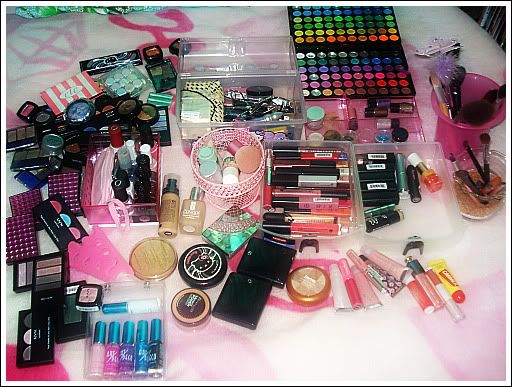 Make up collection -

Of course ;) Love, love make up. Or else I wouldn't be here, haha!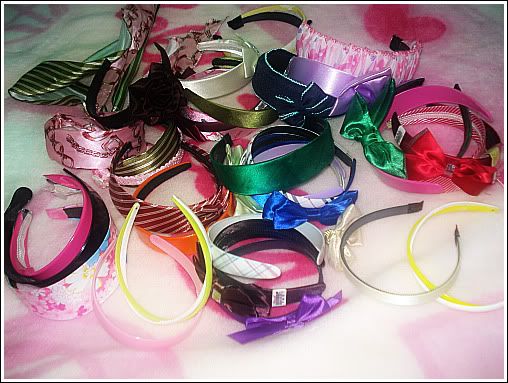 HEAD BANDS

- I love theeeeem! But I need to cut my hair. Lately, I been tying my hair because I hate my haircut! I'm just waiting for it to grow some more.

So, I would had shown you my obsession for clothes or bags but I wanted to show you what else I spend my money on. Be prepared! :]



DVDS/VCDS -
And yes, they are all original! And just today, I bought Me & Marley, Wall E and Slumdog Millionaire. I love movies! I buy any kind of movie, from drama to horror to comedy! Infact, I have alot more but I couldn't fit it in in the screen & some are with my friends. I'm like a blockbuster! Haha. My friend April even calls to ask me if I have any new ones in stock. Love it, love it!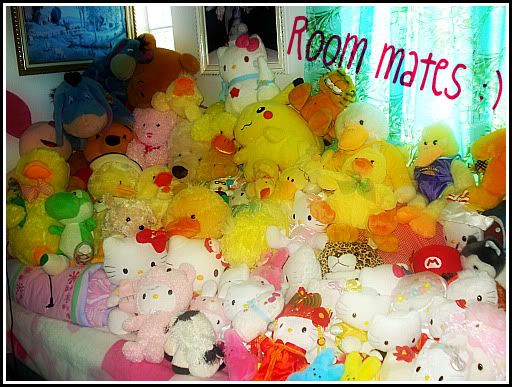 STUFF TOYS -
Yes! They are all mine. And
NO,
I don't have a kid or a little sibling. It's miiiine! M.I.A is my huge hello kitty doll in my car and the Yoshi that is 2x my size! (He couldn't fit on my bed) I have a lot more, but I sent them to my room in the Philippines. & crazy thing is, most of them are obtained while I was in high school until present day. A lot of them are from my friends & my boyfriend too! :) I will never give away my dolls. When I get married & have kids, I won't even give them to my daughter. She will start her own collection like me~ Haha! I still need to figure out what to do when the time comes. But for now, they're my room mates! &

I hate it when people think it's immature -

biiiiiitch, I'm a full time employee and a full time university student & STILL on the dean's list. I flaunt it because people like to under estimate me alot. (That explains my behavior alot, hahaha. Don't mind me

!

)

And yes, I love

HELLO KITTY.

I was almost crazy enough to get it tat on me, but I didn't want to wake up in 50 years wondering why I have a cat n my back.

WHERE I BLOG*



I don't usually use my Sony Vaio (Jill) but my Compaq (Jack) is sick and in the hospital. He has all my files since I was in the 8th grade - & he's my favorite. I hope I am able to save all my documents and pictures. I was disappointed when I found out that I couldn't save my photoshop/paintshop. Oh well. I just need the pictures the most - especially my videos! Just got to pray, pray, pray.



I know that you're supposed to do a survey, but I got lazy. Hahaha! :)

I have to go work thats whyyyy! I'll comment everyone there - I'm going to sleep.



PS:

Contest is until the end of June. My mom's trip to the Philippines got cancelled. My dad can't get a vacation from his work. (Merchant Marines) =((