HAPPY EASTER SUNDAY

!
What are your plans for the day? As for me, I was not able to go hunting for eggs or had lunch or anything - I just spent it sleeping. I am
very
nocturnal because I work graveyard. And today is my day off, so I slept in. Waaaaah. & Last Christmas, I accidentally slept the
whole
day. I made the mistake of locking my door, so no one was able to wake me up. I woke up and it was already December 26. Haha, that was super weird. I saw my cellphone & I received alot of missed phone calls from my bf. We were supposed to spend the day together, opps. Anyways, point is:
Working graveyard sucks.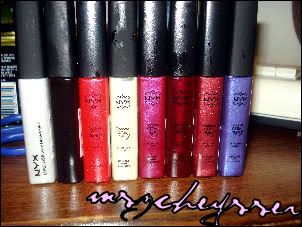 Last week, my package from

NYX

finally came in mail. It took about 2 weeks to arrive. Supppppper long, right? Haha. Bet you're more grateful for

your

faster shipping. Anyways, last month, NYX had this huge sale. I was able to get the pallete and lip glosses for $22 - and shipping was already included! It was like a package/bundle kind of deal. Woohoo~ I love sales.


Yesterday, I watched

OBSERVE & REPORT

with Stephanie. I love, love Seth Rogen! The movie was hilarious. I was laughing throughout the whole thing. And for those who are wondering, if the movie copied "

Mall Cop

", uhm, I don't think so. The only thing that is common between the two movies is the whole "Security Guard wanting to be a cop" kind of thing. Other than that, you'll enjoy a new story.


RATING:

I would give this movie

4/5 stars.

& oh yeah, you'll enjoy the last 15 minutes. Haha!
After movies, we went to Macys*. After applying for the card for the 159871597 time, I visited the Clinique booth & got me some goodies. I was looking for a concealer to hide the ugly dark circles under my eyes, but the lady suggested that I "all about eyes". If I bought it solo, it would had been $22, but she suggested that I get the bundle. The bundle cost
$32.00.
Not only did it came with the same amount of cream, it came with a brush, lip stick, lip gloss, eye shadow pallete and make up bag. So I was sold! Haha, and she threw in a free sample of the make up remover. Yay!

So now, I am going to enjoy the last day of

SPRING BREAK.

I shall continue wasting studying time by bidding on ebay, myspacing, mingling with bloggers, & by also, watching loads and loads of DVDS.

Oh yeah, thank you to everyone who welcomed me on blogger!

Peace out and love,


MSZCHEYSSER