I'm baaaack

!



Today is my day off but I'm really sick. I have the flu - & I hate blowing my nose, twice blood came out, yuck. I haven't gotten sick for over a year, and it's a really weird feeling. Because I am sick, Dr. Mom told me to stay in my room and don't talk on the phone. (How is that even relevant? Haha!)

So anyways, the glamorous Mz. Shar tagged me to do two things: What's in your purse and Make up Collection. I'll do the other one, another time. Right now, I just use my big Roxy bag for school and work. I don't have time to transfer from purse to purse. And I hardly go out now, because the semester is closing and I'm trying to maintain my status in the Dean's list.

Super hard.

I am wondering if my stress contributed to me being sick. :( Sometimes, I feel like quitting my job so I can concentrate on my studies, but I really want to continue helping my parents with some part of my tuition and expenses.

Anyways, my collection is still growing. You'll notice that I have more drug store brands, but slowly going to the real deal. When I discovered Aubrey (Fafinette) from Youtube, thats when I started collecting! But remember before, when she mainly did tutorials on Cover girl, Jesse girl, and NYX? Yeaaaah! Haha.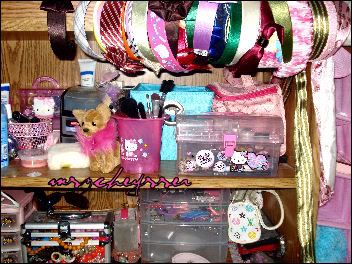 Make up storage on the first floor.
I keep my brushes in a Hello Kitty container.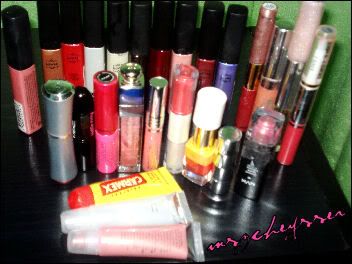 Lippies: Elf, Covergirl, NYX, Benefit, Clinique, MAC, Dior
E.t.c



It's like my NYX are the security guards. Lol!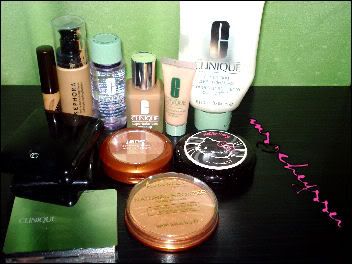 Face:
I love Clinique! :)
I had items from Benefit but I ran out so I threw it away.
Eye liners, Eye brow, Eye lash Curler, Mascara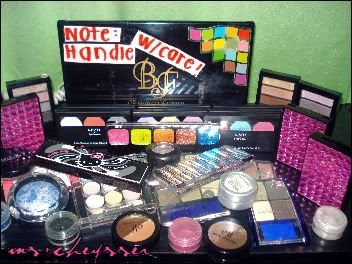 EYE SHADOOOOOWS!
I have the
manly
120 color.
I haven't purchase the C/S palettes yet, since I'm still playing with this one.
Oh, and I dropped it once thats why it has the sign! Haha.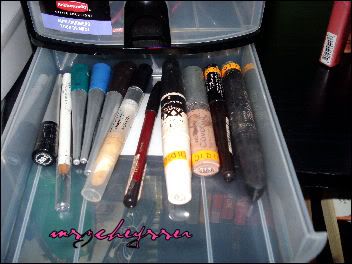 Hello world, say hello to the rejects.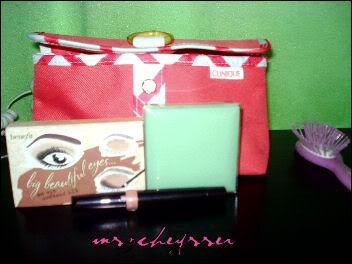 Inside my make up bag..
I learned my lesson to not put a lot of make up in my bag on Guam. They freakin melt from the heat! BLAAAAAAH.
Anyways, thanks for viewing!
And now that I have a blog, You and I can watch it grow!
So I'm going to tag:
Shantee (Get a blog, girlfriend. Yes, I'm calling you out HERE!), Julie, Chrissy, and Mrs. Zeus

& anyone else, who wants to do it!