I been tagged;


Thank you

Vonnie

and

Chrissy

for giving me this award - you two are so sweet :) Now I will be awarding my own honeys.



01.

Mzkrystall


02.

X3MSZSHAR


03.

Shantee

(J&S)




04.

Kay

(Bihadi Diaries)




05.

Mrs. Zeus


06.

Cupcake Couture


07.

Mz_Chrissy


08.

Jasmin (Jayxkiss4u)


09.

x_Jennylyn


10.

Nikki (Askmewhats)



CONGRATS :)

Haha. Award your favorites too!



Blogging dinner with the ladies*


Last night, we (Shantee and Sharlene) met Kay. I never thought that I would meet new friends on blogger! Kay was here for a vacation trip, and boy oh boy, she's so lovely! (: We ate at the

Tony Romas

at the Royal Orchid, then went to DFS - this is where we have all our make ups and such.

I had fuuuuun.

So, I stole some of the images from Shantee. I wish I could take more pictures but my camera is so embarrassing. To tell you the story, I was working at the animal shelter on Guam when I was playing with the dogs and

BAM!

So much for good karma, huh? But it's all cooool - I'm going to save up now for a new one.




The look that I wore that night - tried to keep it simple. I had work right after =/


Tony Romas: We all got the same order, baby back ribs. Haha :)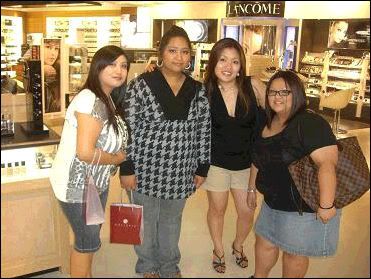 @ DFS.

WHOA!

I look stiff.
Yiiiiikes
.
So during our adventures at DFS, I got goodies :) You know what that means..



HAUL TIME!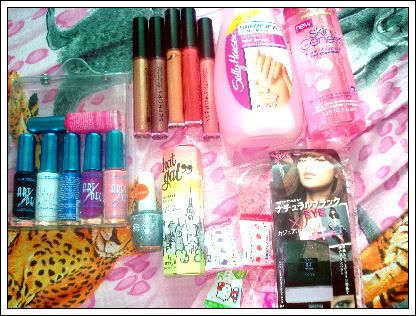 -

Sephora lippies were $15.00 for everything.
-

Benefit "That Gal" $22.00 - thanks Shar for the 20% discount :)
-

Eyeshadow, Hello Kitty candy, and nail polish from Kay.
THANK YOU!
-

Nail Polish remover and Loreal Eye make up remover from Kmart.
-

LA Color Art Decal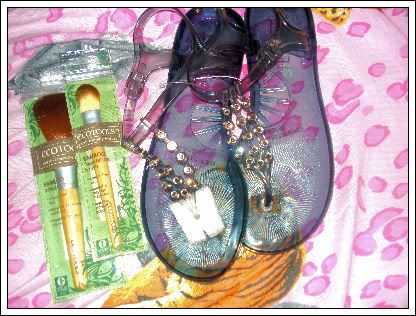 - Eco tools from Payless, the powder brush is so soft. Mmmm!
- BCBG slippers from
APRIL,
just because.



Random talk;



Finals are approaching and I'm stressed out as heck. I have a lot of papers, presentation to prepare for. And honest to God, I am doing a terrible time with my time management. And my job is killing me. I was supposed to spend Saturday with the bestie and go to my meeting with my group in the evening, but it looks like... it's going to be canceled. I have a meeting at work. =( And I don't want to piss them off, I really

like

keeping my job and the money! Economy is hard. Gotta suck it up.

Blaaaaaah

.

And I

do

feel bad that I don't hang out with the boyfriend and the besties as much as I should.

I admit, I get scared to the

shits

that my boyfriend would get tired of my ambitious ass and leave me. He loves my dreams as much as I do, but everyone has their limits right? *Sigh.



This is what I love about blogger,

I am able to just read and write what I enjoy without too much energy. I get tired of talking sometimes, and I feel that isolation is the best remedy from a busy day at work.

The best part of working last night is..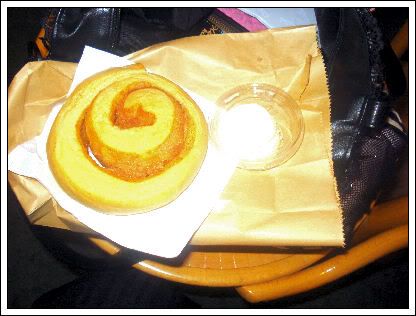 Thank you Marion!
The best cinnamon roll on Guam.

Cup and Saucer!



So tata - I'm going to watch

Scream

, I feel like getting scared. Haha (:



Love,




MSZ

CHEYSSER