YEEEEEES!! I finally have a

new

phone. After

almost

3 whole years, I got myself a new one. My previous phone was a Nokia - so my father thought there was not reason to replace it. But after my phone losing its background light, buttons not working, and un-useable camera ... I bought myself a new one.

Yes, me! :)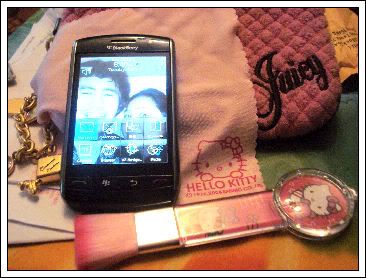 Say hello to the Blackberry Storm :)


And yes, yes.. I heard of all the bad reviews.
But honestly? I

really

don't care. I been waiting for so long for the phone since the commercial came out - I really couldn't just switch to a

Curve

person, over night. Ya know what I mean? So I'm just preparing myself for any problems along the way. I'm putting my phone in my

Juicy Couture

wallet-pouch for the mean time, until my order comes in for the case.

Included in the picture is my keyboard duster - ain't it cuuuuuute. It came in last night! Yee.



Mmm, I got tagged!


by mzkrystall, chrissy, and donnarence.

Rules: Take a picture of yourself RIGHT now. No primping or preparing. Just snap a picture. Load the picture onto your blog. Tag some people to play.

& just to warn you, I read the blogs when I was at work.
You can really tell that I follow the rules.
I took one picture only, did

not

choose out of the best.
So here you go, braaaaace yourself!


HAHAHAHAHAHAHAHAHAHAHAHA!
HAHAHAHAHAHAHHAHAHAHAHA!
HAHAHAHAHAHAHHAHAHAHAHAHA!

Oh girlies, please don't comment "it's noooot that bad". One of my coworkers once said to me and another person

"you guys look like shit"

. Prrrrrrrrf. This is my face after going to school from 9:30-6:00pm and then going to work at 11:30pm-8am. It's awesome! I don't bother wearing make up or fixing my hair, because I would rather

SLEEP!

Wouldn't you? Other than that, from Thursdays-Saturday, I look pretty decent. (Since I don't have class, hek hek hek)

But seriously though, I think I am going to start fixing myself even though I'm exhausted - I heard they are doing laying off some people and I so scared! I was laid off once, and blaaaaah, that was horrible. I was laid off on the phone! And next thing I knew, I was in my car, infront of Kmart, crying and crying....... Someone once said to me "

To keep your job secure, you need to show them that you can do more than what you are required to do

". & So, we're learning how to speak more Japanese and do housekeeping/engineering/belstaff stuffs!

PS: Stop stuffing tissues down the toilets! You know who you are! It's so gross cleaning after poop, which I don't do, I let the security guard do it. Mwhahahahaha! =D



AND IM SO SCARREEEEEEEED!

Alot of the incoming guests from Korea and Japan are wearing their mask to hotels! I don't want to get sick! But in a little bitty way, it would be kinda cool to get it and be a part of this craaaaazy world epidemic. Hmmm...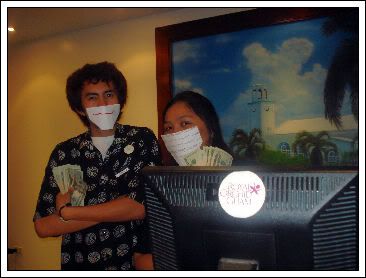 Since payday is not until Thursday, we made home made mask! I'll do a tutorial on it soon! Just kidding ladies! :) I don't know why we're holding money.... we're just gangster like that. Yo, yo, yo.




WANT SOME PORN???




WANT IT....




YOU GOT IT!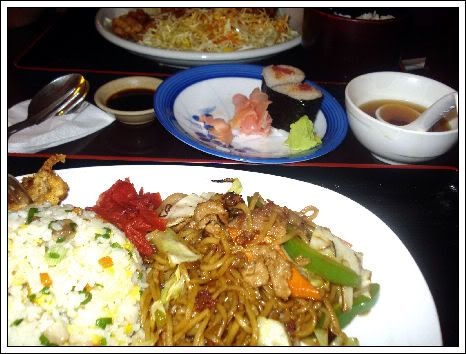 MSKRYSTAL, this is for you ;)
Aji-ichi - I love the spicy tuna.
The boyfriend got this for me.
He knows how big of a sweet tooth that I have.
Cold stone cupcakes, yummmmy!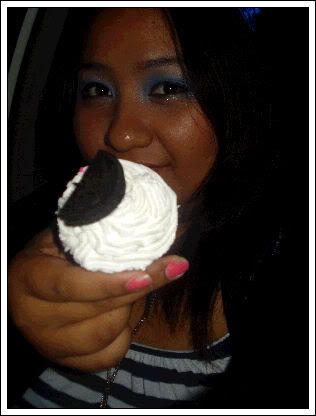 Random note

:
This was

before

we watched XMEN...
Quite disappointed in the movie!
HE DIDN'T SHOW IT ALL.
SHOW US THE PENiSSSSS, WOLVERINE :)

Hahahaha!
Oh shut up,
I know you were thinking about it too.