GIVEAWAY #1:
You're most likely to had of heard of this giveaway,
KYM's epic giveaway
If you haven't click, CLICK the link to learn more about it!
Giveaway ends on August 20, 2009 - which is few days from now. So start clicking & posting! This is open to International Bloggers! So there is no excuse to join ;-)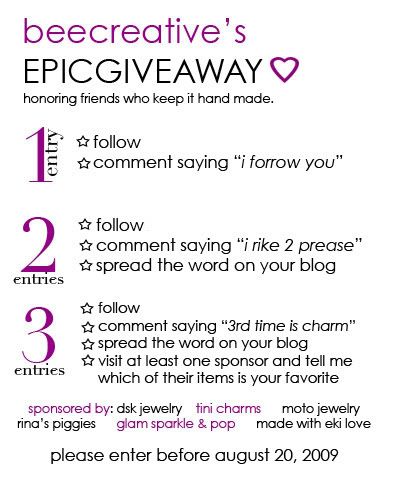 GIVEAWAY # 2:
Blar is celebrating hitting more than 150 followers! So CONGRATS Blair! (Well she actually way passed that mark, haha!) What's her giveaway, you sayyyyy?
CLICK HERE TO SEE THE ACTUAL POST!
Rules:
1. Must be a follower of my blog.
2. One entry per person. You can double your chances of winning by posting an entry on your own blog advertising this giveaway. If you do so, please leave two comments, the first would be the answers to question #3 and the link in your second comment. You'll only get one chance if you don't leave two comments.
3. Leave a comment in this entry:
a) Tell me a little something about yourself for e.g.: Hi, I'm Blair from Johor, Malaysia. I love eating cherries and I'm obsessed with eyeshadow palettes.
b) Tell me what you think of my blog and how I can improve it - detailed answers please.
4. Open to everyone.
5. Giveaway ends 31/8/2009 11:59 pm Malaysian Standard Time.
__________________________________
AWARD # 1
Thank you
Adin
for giving me this award! You're so sweet dear (:
Who am I tagging? I'll just a tagging a few, since I think many might have already been honored.
Stephanie - Aquaheart
Marie - Marie.
Catherine - Pretty Shiny things
Sher - Voodoo Dolly
Jackie - The Narcissus Project
Pammy - Sugardrop's Hawaiianpunchie
AWARD #2
The very beautiful Sher (Voodoo Dolly) has given me this award: With this award, you have to choose 12 blogs that you enjoy read! Now this is going to be hard!
01.
XOXO, Krystal
02.
Iyah - As pink as my juicy
03.
Pop Champagne
04.
Kym - Bee Creative
05.
Janise - Sweet thing random ramblings
06.
Lindah - Only X Lindah
07.
Donnarence - My Lucid Intervals
08.
Lily - Beauty is in the eye of the beholder
09.
Kendall - Just a girl
10.
Hana aka acutelife
11.
Louie - Uber feminine
12.
Anastacia Park
WOW!
I'm finally done, haha. If you know me - you'll know that I hate
LINKING
but I did it woo
!

______________________________________________________



Blogger Note:
I am finally up to date with giveways (well, sorta) and my awards
!
:-)
*CLAPS FOR MYSELF*